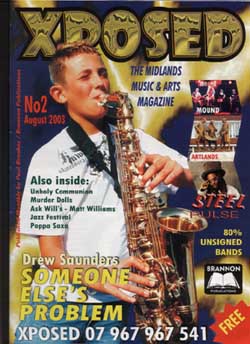 Young stars of the Midlands ...
Someone Else's Problem!
Drew Saunders is the young talented sax player who is part of this youthful outfit. Late last year they won the 'Rock the Castle' competition in Dudley and, as part of the prize, they won a recording session at Rich Bitch Studios. Since then their ever changing line up seems to have settled after recruiting vocalist Greg Mogford, who replaced Matt Vale, as he was signed to MCA records in the USA.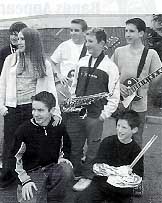 Steph Harrison has come in on keyboard and now they are busy in the studio perfecting their set. Bass player Dan has been cast with the title 'Flea-like' after incorporating many 'Chilli Peppers' funk fuelled bass lines.
With the overall sound of the band being a unique blend of sounds incorporating two rock guitars, keyboards, saxophone, pumping bass, thunderous drums and delightful vocal harmonies. 'Someone Else's Problem' seem to have a certain something which is quite overpowering and, yes, unique.
This article first appeared in Xposed - Issue No 2 August 2003
---

Click here for an review of SEP's performance at The Robin 2 Ultimate Battle of the Bands 2002 - Heat 1/1, on Monday 4 March 2002.
---
Click here for an independent review of SEP's gig at The Robin 2, Bilston, on Saturday 24 November 2001.
---
Contact Us!