SEP raised over £1100 for Children in Need 2001 by playing a gig at a fundraising event at the Rock Cafe Stourbridge on 16 November 2001.
They raised £1144 the previous year which they also did by playing a gig but also through sales of their then current CD - all in aid of the BBC Children in Need appeal!
Both gigs were resounding successes. The gig held at The Rock Cafe, Stourbridge on 12 November 2000 was supported by Krome 45, Average Day and Ruff Diamond, SEP played to a packed hall of enthusiastic fans, aged from aged 0 to 90! For pictures from that gig (and others), click here!
Scenes for inclusion in a pop video were shot at the gig. It was originally hoped that BBC Midlands would air the video on Children in Need night but, unfortunately, time was against them. Apologies to all those who tuned in to see the video, but that's live TV for you!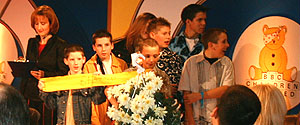 However, SEP were interviewed on live TV on the night and presented their cheque for £1144 to Darren from Big Brother on behalf of BBC Children in Need!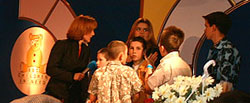 ---
HEAR SEP'S FUNDRAISING SONG HERE!
SEP recorded a song in aid of Children in Need entitled: "Set Them Free". Now YOU can listen to a preview of "Set Them Free" here, by clicking this button!
Remember to tell your friends to come back to listen to "Set Them Free"!
If you like what you hear, you are able to download the song, by clicking the button below, in return for a pledge to BBC Children in Need..
Radio stations can play this song royalty free in return for a pledge to BBC Children in Need Appeal.
Any other commercial usage of the song is expressly forbidden without the prior permission of the author.
'Set Them Free' was written, recorded and produced by Dave Vale © 2000.
Vocal harmony arrangements by Paul Maclean
---
Contact Us!